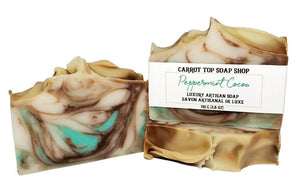 Our cold process soap is made in small batches with your skin in mind.  Every batch is made from scratch with an in-house formula we have carefully developed.  Our bars are filled with plant derived oils and butters your skin will love.
The shea butter in our bars is naturally nourishing and has been used for many centuries to replenish and moisturize the skin. It is rich in vitamins A and E and contains essential fatty acids like linolenic acid, which is great for dry skin. 

Paraben free. Phlatate free. Sulfate free. Always.