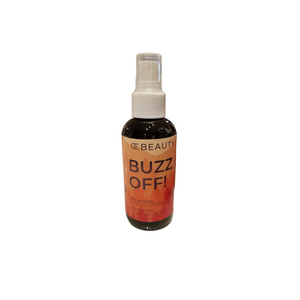 Our Buzz OFF Insect Repellent was designed to keep all those pesky bugs away while being deet free. This amazing bug spray is Mother Nature approved and is safe for petsjust spray away from the snout, children and the rest of the house. Its effective against ticks, mosquitoes, black flies, horse flies and now made with a  specific blend and concentrations of Organic Grade A Essential oils. Known to naturally provide a long-lasting relief from all biting insects including. 4oz.
Note: We recommend when using on children less than 8 years old to spray on clothing, Spray away from your pet's face. Just a few sprays are required per limb and rub in, don't overuse this product, after all, we know money doesn't grow on tree's but some of our oils do! Enjoy the great outdoors- Pest Free.
Suggested Usage: SHAKE WELL. Spray 1 – 3 time daily or as required, above the head 6 – 8 inches from the skin. Lightly cover exposed skin and/or clothing. Can also be used as a deodorizer, surface cleaner and hand sanitizer.
*Most Popular* Regular Blend Ingredients:Essential Oils of citronella, Lemon Eucalyptus, Eucalyptus, Spearmint, Neem, Cedarwood, Tea Tree, Lemongrass, Clove Bud, Cajaput, Catnip, Rosemary, and Lavender in a base of demineralized water, Polysorbate 20
 | No Paraben | No Sulfates | No Animal Testing