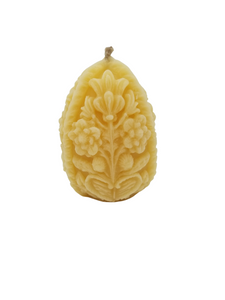 Beeswax in the only substance known to humankind that, when burned, emits a negative ion. Negative ions circulate the room neutralizing the positive static charges that keep contaminants airborne. When this charge is neutralized, the contaminants-dust, odours, mold, pollen, viruses and other toxins-fall to the floor. The convection current created, via combustion, when the candle burns draws contaminants to the flame where they are deposited into the molten wax surrounding the wick. This causes the wax to darken.

Beeswax produces a multi-level vibration that calms the inner senses. This vibration can be seen in the golden halo surrounding the flame.

Beeswax sweetens the room with the pure scent of honey.

Beeswax candles burn hotter, brighter, longer and cleaner than conventional candles.

Beeswax is non-toxic, and non-carcinogenic